Good Friends: Be the Best Friend You Can Be
In this entertaining 3-part series, join Sari and her quirky character friends to explore some of the tips and tricks to finding good friends, being a good friend, and maintaining good friendships
birthday-cake
8 - 11 year olds
users
3 - 20 learners per meeting
clock-o
60 min per meeting
calendar
See course information for further details
Available Times
We don't have any upcoming dates for this class at the moment.
Let us know if you'd like to be notified when new dates are available.
Course Details
Description
Do you know the best vitamin for making friends? "B1!" (Get it? Be one!)
Everybody should "acquire for yourself a friend," according to the Jewish text Pirkei Avot (The Teachings of our Fathers). What does that even mean? Have you ever thought about what it takes to be a good friend?
Friends are so key in life, but how can your kid develop and maintain good, strong friendships?
In this entertaining 3-part series, learners will join Sari and her quirky character friends to explore some of the tips and tricks to finding good friends, being a good friend, and maintaining good friendships. This class is for your kiddo if they have a sense of humor, appreciate hands-on creative learning, and recognize the importance of friendship.
Class 1: Find a friend
Class 2: Be a friend.
Class 3: Keep a friend.
Requirements
Please be in a quiet room where you'll feel comfortable turning your camera and microphone on.
Supply List
Writing utensil and paper
Teacher
Sari Kopitnikoff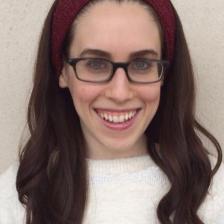 Sari Kopitnikoff
Sari Kopitnikoff is an experiential educator, digital artist, and content creator. She is passionate about creating books, games, activities, shows, and virtual challenges that bring Judaism to life. For the last decade, she's taught elementary, middle, and high school, but her creativity and energy have reached beyond the classroom, bringing the sparks of Jewish life to all parts of the world. She received her bachelor's degree in Biology and master's degree in Jewish Education from Yeshiva University as well as their Certificate in Experiential Jewish Education. During college, Sari minored in Art and studied computer graphics and animation at The Fashion Institute of Technology. In 2014, Sari began That Jewish Moment: a colorful, meaningful, and heartfelt collection of drawings and programs that showcase the spirit and beauty of Jewish life. You can find lots of free Jewish educational materials on thatjewishmoment.com and find Sari on Instagram and Facebook, @thatjewishmoment.
Other Classes for You to Explore