Learn Jewish Values Through Cooking!
Culinary Judaics Academy
This mini-class series will explore three important Jewish values that anyone at any age can use to bring more meaning into every day and to help themselves and those around them.
Completion of an additional waiver is required to participate in this class. Visit here to complete this waiver.
birthday-cake
8 - 13 year olds
users
5 - 30 learners per meeting
info-circle
Cooking and Jewish Values
calendar
See course information for further details
Available Times
We don't have any upcoming dates for this class at the moment.
Let us know if you'd like to be notified when new dates are available.
Course Details
Description
This mini class series will explore three important Jewish Values that anyone at any age can use to bring more meaning into every day and to help themselves and those around them.
WORKSHOP 1: Gemilut Hasadim - Acts of Lovingkindness.
RECIPE: CJA'S Sundried Tomato Risotto.
COOKING CONNECTION: While "love" may not be literally listed on the ingredients, you must put love and care into your cooking to commit the time and energy to make a dish that will coax the maximum amount of flavor out of ingredients. This workshop's recipe in particular requires time, patience, and love!
JEWISH CONNECTION: We will explore what it means, looks like, and feels like to practice Gemilut Chasadim or "acts of loving-kindness." We will look at the origins of the phrase "loving-kindness" in Jewish texts to discover all the different ways we can engage in this sacred responsibility in our lives today.
EVERYDAY CONNECTION: Through acts of loving-kindness, we have the opportunity to see the world through another person's eyes. We can also choose to act in ways that help uplift each other as well as the world around us.
WORKSHOP 2: Shituf Peulah - Cooperation.
RECIPE: CJA'S Vanilla Trifle with Jammy Sauce.
COOKING CONNECTION: Cooperation is a huge part of the cooking experience, especially when cooking for larger amounts of people (either at home or when eating out).
JEWISH CONNECTION: Shituf peulah, literally translates to "participation in activity" or "participation in work," but can also mean "cooperation." We will look at the Torah for inspiration and learn how three siblings (Moses, Miriam, and Aaron) used their different strengths to work together and accomplish great things.
EVERYDAY CONNECTION: Cooperation often requires showing up and doing the work! We can show up as our best selves by recognizing where our individual strengths are and working as a team with other people.
WORKSHOP 3: Tzedakah - Justice and Charity.
RECIPE: CJA'S White Bean Soup.
COOKING CONNECTION: Food justice is our response to those who have limited access to food or nutritious meals. When you deliver home-cooked, healthy meals to a local rescue mission, food pantry, or shelter for people who are housing insecure you are helping to balance the scales of justice.
JEWISH CONNECTION: Tzedakah is usually translated as "charity," but really comes from the root word "tzedek" meaning justice or righteousness. By thinking about tzedakah as a form of justice as well as charity, we recognize that it isn't a choice but rather a Jewish obligation to help those in need.
Requirements
An operational, clean kitchen with access to an oven/stove top.
Supply List
Students must have access to an operational kitchen with routine equipment. Our recipes are very approachable and do not require fancy equipment. Recipes will be provided to students ahead of time so they may procure the necessary ingredients for each workshop.
Additional Resources
Additional material to support participation in this course can be found on the Culinary Judaics Academy website. In addition, to participate in this course, please complete the waiver found on this page:
Culinary Judaics Academy Waiver
By clicking on the link above, you are now leaving the Truvie platform and will be redirected to the website of a third-party service provider (the "Provider"). TJEP strongly encourages you to read the Provider's Terms of Service and Privacy Policy and any other documentation provided to you by the Provider. Please note, that upon receiving a follow-up communication email from the Provider, you are free to either engage with or decline receiving further communications from the Provider.   
Teachers
Chef Danny Corsun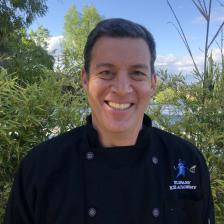 Chef Danny Corsun
Danny Corsun has been a Chef-Educator for 21 years. As a teacher in Santa Monica, CA, he had the unique opportunity to create a program that taught Math, Science and Social Studies, but did so through experientially engaging cooking classes. This program not only resulted in better student grades, but an environment that had students having the most fun they'd EVER had inside a classroom! In 2009, he augmented the company's curriculum to include teaching Jewish life and values using the same experiential pedagogy and Culinary Judaics Academy was born! This quickly yielded phenomenal results with CJA's workshops being taught nationwide at synagogues, day schools, summer camps and now online. CJA takes Jewish celebrations, rituals and values and makes them important and relevant to students' lives today. The goal being to make Judaism personal, relatable, engaging, fun, and DELICIOUS!
Lena Shupper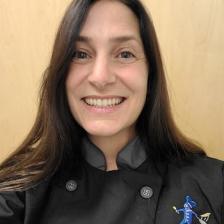 Lena Shupper
Lena is the Operations Manager for the Culinary Judaics Academy. She has a lengthy background in Jewish education and a great love for cooking that leads to bringing people together.
Other Classes for You to Explore